GRANDMA'S ATTIC
WESTERN ANTIQUES and GIFTS OF ALL KINDS
ANTIQUES
Prices do NOT include shipping.
We accept Visa and Mastercard through PayPal. Click below to send money or learn more about Pay Pal. Our PayPal e-mail address is msaban@wyoming.com.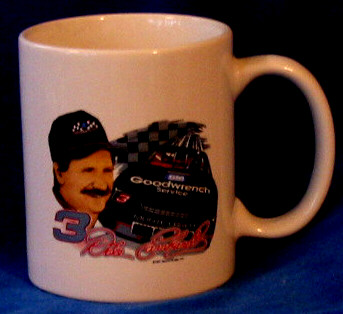 Click on mug for larger view
Dale Earnhardt #3 Goodwrench Mug - Brand New! $15.00 plus shipping
BE SURE TO TELL US WHAT YOU ARE LOOKING FOR. OUR SEARCH PRICES ARE REASONABLE, AND PERHAPS WE CAN HELP YOU FIND THAT SPECIAL ITEM!
Page Created January 1, 2000 Perpetual Copyright 2000 All Rights Reserved.
Return to Grandma and Grandpa's World
Return to Grandpa's Workshop
Return to Books and Such
Return to Antique Photo Preserving
Return to Quick Stop Office, Art and Internet Homepage
Page Last Updated Friday, August 03, 2012